Best Cheap Health Insurance Companies In 2021
One of the expected changes to the ACA, now that President Biden is in office, is the return of the individual mandate.
This means that it will soon become imperative for all Americans to find health insurance policies, or be subject to a federal fine. Currently, this fine applies in four states.
Fortunately, we have looked into the best and cheapest health insurance plans for you, so that you can quickly and easily pick the most suitable plan for you and your family.
5 Best Cheap Health Insurance Companies
The top five cheap health insurance companies that we found are:
Blue Cross Blue Shield—Best Overall
Kaiser Permanente—Lowest Costs
United Healthcare—Best Coverage Options
Cigna—Best Global Coverage
Harvard Pilgrim—Best Quality Ratings
1. Blue Cross Blue Shield—Best Overall
Key Features:
AM Best Rating: A to B++ depending upon location
NCQA Score: 3.5 out of 5
CMS Score: 4 stars
Network: Available in all 50 states, 90% of doctors nationwide
HMO/EPO/PPO: HMO and PPO
Cheapest Plan:
The BCBS HMO policies can charge premiums averaging $47 per month with prescription coverage, $24 per month without prescriptions.
Overview:
Blue Cross/Blue Shield (BCBS) is an association of 36 nationwide health insurance companies. Due to different regulations and other factors that vary by state, premium prices differ from state to state.
BCBS has both Preferred Provider Network policies (PPOs) as well as Health Maintenance Organization policies (HMOs). PPOs give you more control over which doctors and care facilities you choose to visit, but are generally more expensive than HMOs, which don't necessarily give you those choices.
Extra coverage is available for hearing and vision policies.
BCBS offers Medigap policies. If your Medicare plan does not cover certain problems, Medigap can make up the difference.
Some of the additional health benefits include discounts on fitness products, nutritional supplements, and gym memberships.
BCBS is one of the best health insurance companies overall and offers the best cheap health insurance policies.
2. Kaiser Permanente—Lowest Costs
Key Features:
AM Best Rating: Not rated
NCQA Score: 4.5 out of 5
CMS Score: Average 4.93 stars
Network: Only available in 8 states and DC
HMO/EPO/PPO: HMO and D-SNP
Cheapest Plan:
Kaiser Permanente HMO policies can charge premiums averaging $60 per month with prescriptions, $20 per month without prescriptions. Most health insurance plans have no deductibles.
Overview:
This health insurance company has some of the lowest priced insurance plans that you can find. They also have excellent ratings among both financial websites and healthcare evaluation websites.
Their primary drawback is their lack of available plans in most of the United States. Kaiser Permanente plans are only currently available in California, Colorado, Georgia, Hawaii, Maryland, Virginia, Oregon, and Washington.
They offer additional optional benefits such as fitness, hearing, dental, and vision coverage. You can pay for your plan using your credit cards.
3. UnitedHealthcare (Golden Rule Insurance Company)—Best Coverage Options
Key Features:
AM Best Rating: A
NCQA Score: 2-4 out of 5
CMS Score: 3-5 stars
Network: Available in 19 states. Reduced availability outside of the network.
HMO/EPO/PPO: HMO and PPO
Cheapest Plan:
UnitedHealthcare's insurance plans vary widely in cost from state-to-state. However, their Prescription Drugs Plans (PDP) have consistent cost savings. This health insurance plan offers $0 copays and deductibles.
To find the most up-to-date costs for insurance premiums in your state, visit the United Healthcare Services Inc website and enter your zip code for local rates.
Overview:
UnitedHealthcare has a huge network of medical providers in the regions they cover. They supplement this with an app, online diagnostics, and other telehealth technologies. Some plans even include virtual medicine and house calls.
UHC offers HMO, PPO, D-SNP, and stand-alone PDP plans, along with Medigap plans to supplement Medicare.
UnitedHealthcare is the only one of the insurers on our list that partners with AARP. Their additional optional benefits include fitness, hearing, dental, and vision coverage.
4. Cigna—Best Global Coverage
Key Features:
AM Best Rating: A
NCQA Score: 2.5-4.0 out of 5
CMS Score: 3.88 stars average
Network: Medicare Advantage plans available in 16 states
HMO/EPO/PPO: HMO, PPO, and Special Needs Programs (SNP)
Cheapest Plan:
Most of Cigna's HMO health plans have no premiums or deductibles for in-network providers. Out-of-pocket maximum costs average around $5600-$5800.
Overview:
Cigna has three tiers of plans: Gold, Silver, and Bronze. Each of these plans covers many medical costs with no deductibles as long as you are treated by a participating medical provider.
If you need to be seen by a non-participating provider, Cigna typically offers 50% co-insurance.
Cigna also has an out-of-pocket limit of around $6250 for most of their plan categories.
Their coverage includes emergency and in-patient treatment, as well as mental health and rehabilitative health services. Optional coverages include dental, maternity, and eye care.
Cigna's plans are HMO, PPO, or HMO-POS, with additional Special Needs Programs. They also sell life insurance.
5. Harvard Pilgrim—Best Healthcare Reputation
Key Features:
AM Best Rating: No available rating
NCQA Score: 2.5-4.5 out of 5
CMS Score: 4 stars average
Network: Massachusetts, Maine, New Hampshire, and Connecticut
HMO/EPO/PPO: HMO, POS, and PPO plans rated
Cheapest Plan:
The Best Buy HMO 2000 health insurance plan has a $2000 deductible and copays of $25 or $40, depending on if the visit is for routine help or for a specialist. Check their website for premium rates and information topics.
Overview:
Although Harvard Pilgrim plans are only available in four New England states, their quality-of-care ratings are higher on average than most of the other plans rated by the NCQA and CMS.
Claims are handled quickly with in-network providers, and only emergency claims are processed with out-of-network providers.
They maintain low deductibles, although their premiums are generally not as competitive. However, their health insurers and network of providers are associated with Harvard Medical School, which lends a degree of prestige to their quality of care.
Their biggest drawback is their limited area of health coverage, but if you live in one of those four states, Harvard Pilgrim is one of your best options for highly-rated healthcare.
How Do I Get Good Cheap Health Insurance?
For most health insurance shoppers, the cheapest option for health insurance will be Medicaid. Unfortunately, their eligibility requirements are sometimes difficult to get around. The eligibility requirements are based upon your base household income level and vary from state-to-state.
If you cannot meet the Medicaid eligibility requirements, then your best option might be low cost private health insurance. Search your state marketplace website to find information about the cheapest options available.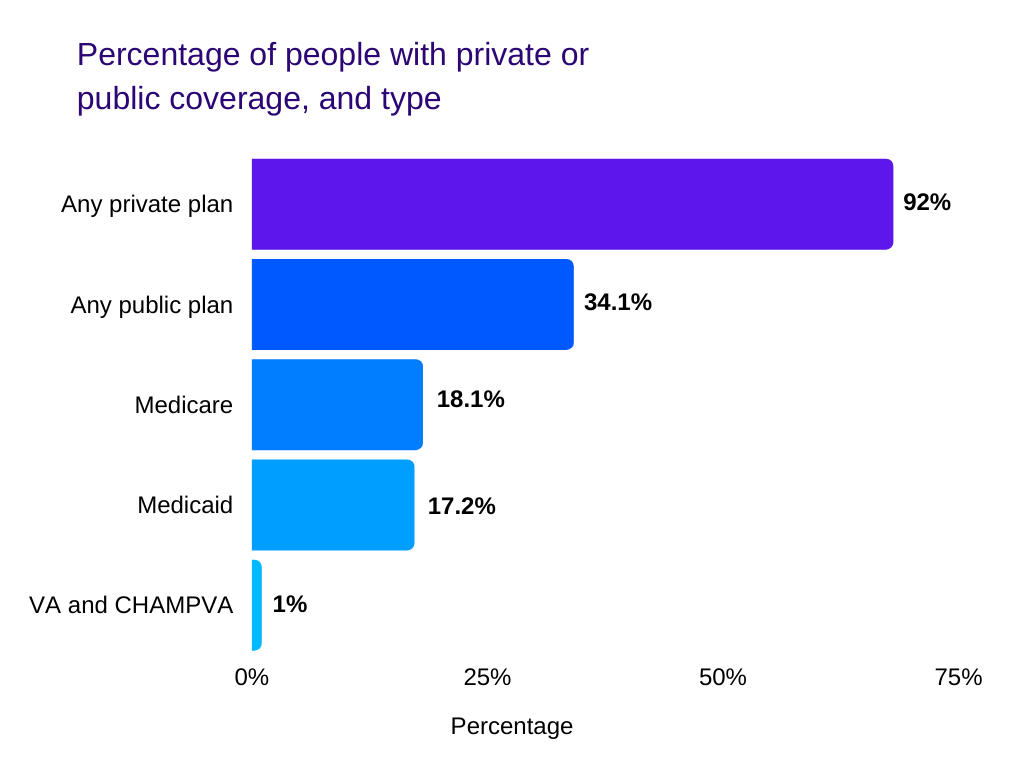 Although Medicaid is more affordable, about 92% of people prefer a private coverage plan
Consider Short Term Health Insurance
You might find yourself in a situation where you need health coverage during a brief period between employees health insurance. If this is the case, your best choice for cheap healthcare might be short term health insurance.
Research some of the best short term health insurance options before committing to a plan.
Check Out Cheap Health Insurance for Students
You also might have a cheap health insurance plan if you are a full-time student, or even studying part-time.
Many universities offer an affordable health insurance plan. In fact, some universities have a mandatory coverage plan for full-time students, or students residing in dorms.
Mandatory health insurance plans on campus have only increased during COVID-19. Check with your school to see if your tuition payments include health insurance premiums. Even if they don't, your institution might have an affordable insurance plan for enrolled students.
Determine Your Income Level
Before visiting your state's ACA Marketplace plans website, you need to carefully and accurately determine your income level and your family income.
You can estimate this most easily from your Adjusted Gross Income (AGI) on your tax return. Check last year's tax return on line 7 of your IRS Form 1040. Make any necessary adjustments due to raises you might have received.
It's important to realize that your income level is different from your taxable income, which might include several tax deductions. According to the ACA Marketplace, your income might seem much higher, because it does not account for those deductions.
Assess Your Health Insurance Needs
If you have a pre-existing condition, this needs to be a factor while searching for cheap health insurance.
Many private insurance companies may have terms regarding people with pre-existing problems. They might only offer limited coverage for medications, or have annual limits for certain types of clinical visits.
If you or your spouse are expecting a child, be sure to check if these plans cover pregnancy and maternity care.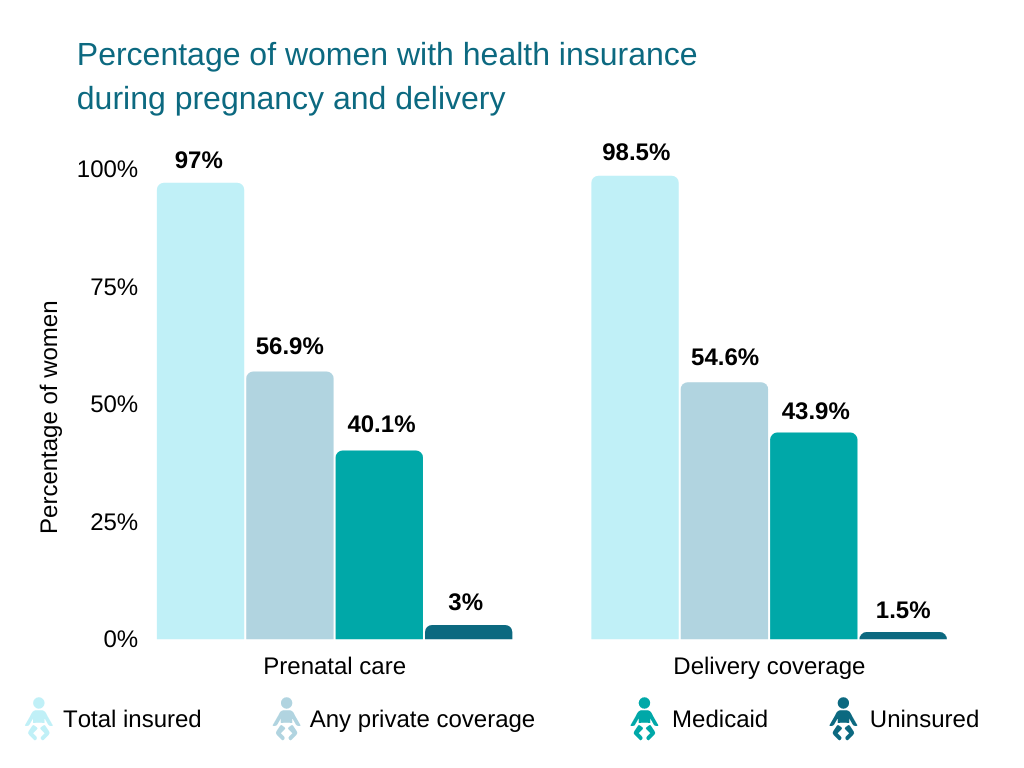 More women—98.5%—had some type of health insurance during delivery, with 43.9% opting for Medicaid
Other conditions, such as mental health or rehabilitative care, or even dental and eye care, might require additional coverage. In some cases, you might want to learn what is secondary insurance.
Government Health Insurance Options
Since the Affordable Care Act was passed, the U.S. government has been increasingly involved in healthcare insurance. Read on to find out what that means for you.
Is the Affordable Care Act an Affordable Insurance Option?
The ACA is not an insurance provider. The ACA mandated that each state provide healthcare exchange options for residents in-state.
The ACA regulates these healthcare insurance companies and plans to ensure an affordable health insurance premium and minimum standards of coverage. It works for the protection of consumers who might be deemed risky by private insurance companies due to pre-existing concerns or other high-risk conditions.
You also may be eligible for health care tax credit. Check your health insurance marketplaces to save money.
The ACA has a limited open enrollment period so check the marketplace to find out when your state's open enrollment is.
Is Medicare Free and Am I Eligible?
Medicare is not technically free—every U.S. taxpayer pays money into Medicare through income taxes withheld from their paychecks.
To qualify for Medicare, you must be over the age of 65. In certain cases, some conditions might be covered for patients and people under 65. If you meet these conditions, you may be able to receive medical treatment without paying a monthly health insurance premium.
The Social Security Administration also defines certain disabilities that qualify you for Medicare coverage or tax credit. Check their website for enrollment.
Is COBRA Insurance Expensive?
COBRA, which stands for Consolidated Omnibus Budget Reconciliation Act, is designed to be a temporary extension of the coverage you may have received from your employer after a life event or change in your employment status.
If you are changing jobs, or your work hours have been reduced, you may be eligible for continued coverage. However, you will be responsible for those premiums.
Because COBRA is held to the same standards of coverage as your original workplace-provided insurance, its premiums might be higher than those you can find in your state's ACA Marketplace. Check your ACA Marketplace website for comparison quotes.
FAQ
What Is the Best Cheap Health Insurance?
If you're making your healthcare insurance decision based entirely on the cost of premiums and deductibles, your best cheap health insurance option is Kaiser Permanente.
Their health insurance cost was the lowest that we found during our evaluation of several health insurance providers. Yet at the same time, they maintain high ratings from the NCQA and CMS.
However, their limited area of coverage might not include the state of residence where your family lives.
Who Has the Best Affordable Health Insurance?
Overall, we recommend Blue Cross/Blue Shield for the best affordable health insurance. While these insurers maintain low premium costs, they have a wider range of coverage that includes all fifty states.
They also have a great reputation with generally favorable ratings from quality assurance agencies.
Why Is Health Insurance So Expensive?
According to Blue Cross/Blue Shield, the largest factor in health insurance costs is the rising price of medical treatment in America.
As the general population increases, chronic conditions and ongoing treatment is bearing heavily on the price of medical care. Now that all people are guaranteed the same standard of medical care, costs are rising to cover that standard.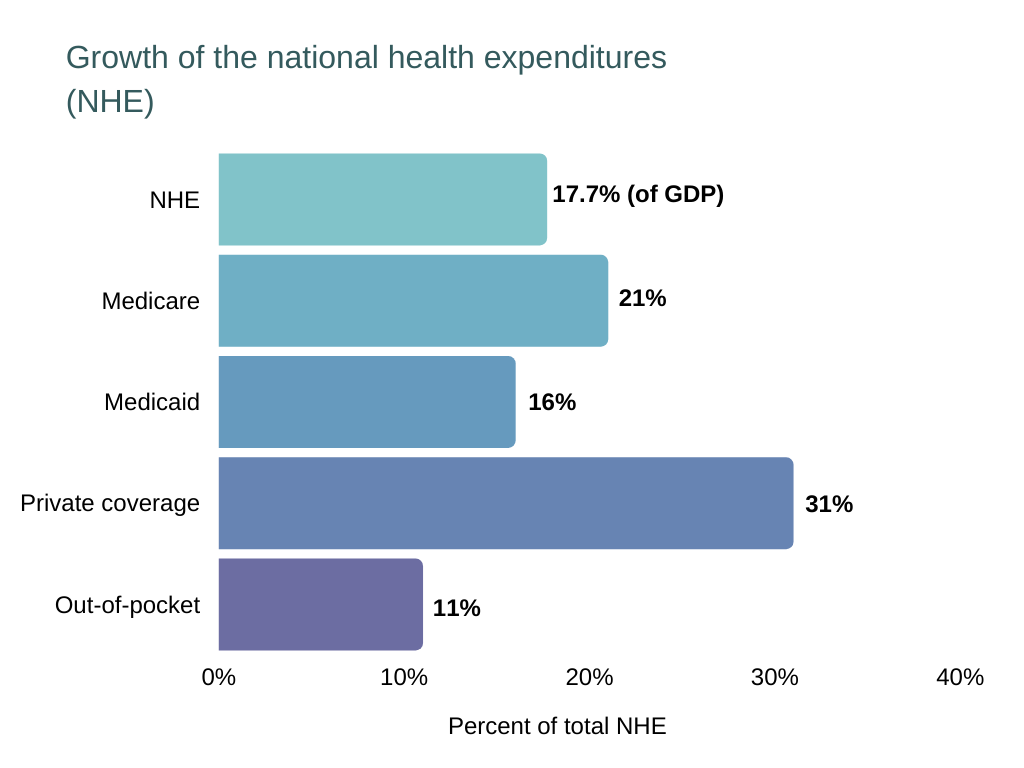 NHE accounts for 17.7% of GDP within the US, of this private coverage makes up of 31% of the total NHE
Another factor is indemnity insurance.
Young and healthy people in the population are burdened with the costs of taking care of the elder and more-at-risk members of the population. Americans can work together to curb health care costs by practicing healthier lifestyles.
What Is the Cheapest Health Insurance in My State?
Of course, this answer will vary from state to state. You should first check your eligibility for Medicare, and then look at menu options on your state's ACA Marketplace website.
After considering those options, you should compare private insurance companies. Start with Blue Cross/Blue Shield and Kaiser Permanente, as those two companies offer some of the cheapest premiums in many of the 50 states.
Is Insurance Cheaper On the Health Insurance Marketplace?
In most cases, insurance on your state's Health Insurance Marketplace will not be cheaper than private health care insurance. This is because Marketplace insurance providers are held to federal standards of accessibility.
The exception to this is if you qualify for government subsidies for your health care insurance. If your income falls beneath a certain level (typically 400% of the poverty line) then you may qualify for these subsidies.
How Much Is Health Insurance a Month for a Single Person?
According to the Kaiser Family Foundation, the average American paid $612 per month for health insurance policy premiums in 2019 from the ACA Marketplace exchange.
Conclusion
Health insurance can seem expensive and the choices can seem overwhelming. We hope that this article has made it easier for you to make the necessary health care insurance decisions for you and your family.
Always remember to consider your specific medical needs before choosing an insurance plan, and make sure that your new plan will cover the expenses that you expect to encounter.